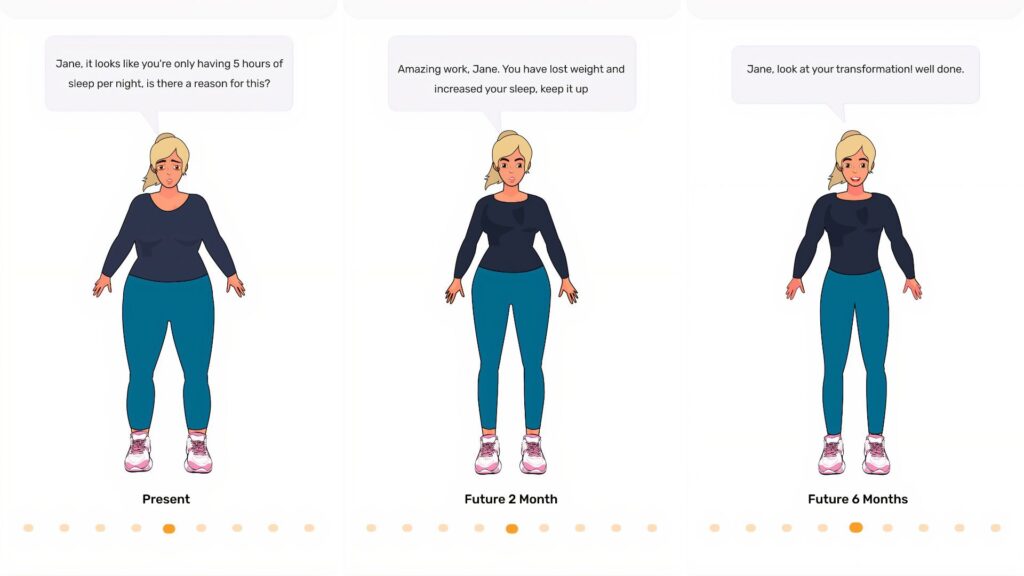 Avatraxx is a new workplace preventative health, lifestyle and wellbeing app that uses predictive health technology, proven psychological methods and data to bring inclusive health programmes to the workplace. It can also be used by individuals.
Inspired by the old saying, "An ounce of prevention is worth a pound of cure", Avatraxx has been designed as a preventative health app for use in the workplace. It's not only about counting steps, measuring food intake, and telling you how well you have slept and feeling (although that matters). It's about using that data to predict how you will look and feel in the future based on the data and the information about your behaviour that you put into the app. The goal is to prevent future health problems by making and sustaining lifestyle and habit changes one step at a time.
Avatraxx creates tailor-made wellness programmes that use personalised avatars of each user that encourages and support them to make positive changes to their
physical and mental health, helping them get healthy and prevent future health issues, helping them get healthier, more active, and happier at work and home.
Each Avatraxx avatar is constantly updated with the users' key health markers, such as what they eat, how much they move (it can sync up with fitness counters), how much sleep they get and how they feel emotionally. The Avatraxx coach (a real-life coach) avatar works with the user to set goals and give them tools to help users reach their goals, change habits, and help prevent future health problems.
Ben Binder, the founder of Avatraxx, says: "Workplace wellness schemes are often discounted gym memberships and competitive group activity. Not everyone enjoys exercise, going to the gym or taking part in challenges. Because each programme is personalised, Avatraxx is making access to improved health and fitness inclusive and more accessible whatever your level of fitness or age".
"Using Avatraxx shows people that any type of movement, regular balanced meals and improved mental health can be achieved by anyone. Avatraxx works because it is not a one-size fits all approach, but one that is tailor-made for each user and goes at their pace", says Ben.
As users start taking the advice and making changes, the app adjusts how the avatar looks and how they will look if they stick to the programme and how they will look if they don't stick to the programme.
Avatraxx users can team up with colleagues and share their data to be held accountable to each other, another way of encouraging people on their health journey and are automatically put into a group with HR who will help support and encourage the team.
The app also keeps a check on a user's mental health and sets up a warning system so that employers can keep an eye on a team member if they report they are feeling low (with permission).
Avatraxx is like having a personal trainer, sleep expert and support buddy encouraging, empowering, and motivating users every step of the way and is an affordable way for people to be coached by experts.
"Seeing how you will look and feel in the weeks and months ahead is incredibly motivating. If you can see that your key health markers will improve or deteriorate based on your lifestyle choices, then it's easier to make small changes. We all know that habit changing is difficult, but if you make small changes every day, even if you don't think it will make a difference, you can see on the app that it will have an impact over time. People often give up on wellness plans because they can't see the point of, for example, doing three lunges while brushing their teeth or walking an extra 500 steps a day, but with Avatraxx, you can see the changes, and it's empowering and incredibly motivating".
Daily use of Avatraxx has many benefits for both staff and organisations, including increased productivity, improved staff retention, improved employee morale, and the accountability aspect of the app encourages team building and healthy competition, whether staff are office or home-based.