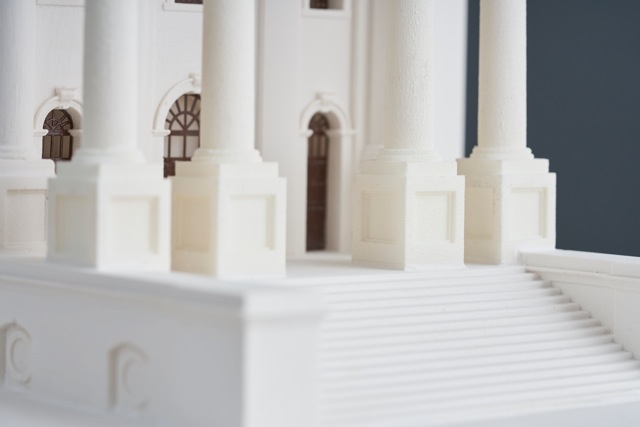 For Robert and Gavin Paisley, owners of innovative architectural model-making company Chisel & Mouse, London presents a veritable treasure trove of fascinating structures, in a wide range of shapes and styles. With a fine appreciation of great buildings and their designers, the Paisley brothers have directed their attention towards two of London's lesser-known architectural gems, designed by prestigious architect Nicholas Hawksmoor: Christ Church (completed in 1729) and St Mary Woolnoth (completed in 1727).
A labour of love
The Chisel & Mouse models of Christ Church and St Mary Woolnoth are the brand's most complex pieces to date. In presenting the striking front elevation of each church, the models successfully capture the essence of Nicholas Hawksmoor's imaginative English Baroque style. Exquisitely crafted with painstaking attention to detail, the two models express every feature with absolute clarity, from Christ Church's unmistakable spire and its classical portico to St Mary Woolnoth's short, thickset twin towers. A homage to one of Robert and Gavin Paisley's favourite architects, the Christ Church and St Mary Woolnoth models were a labour of love—it took the brothers a year to perfect the first model. Similar to the eye-catching church structures they embody, the models are thrilling and artistic statement pieces to behold.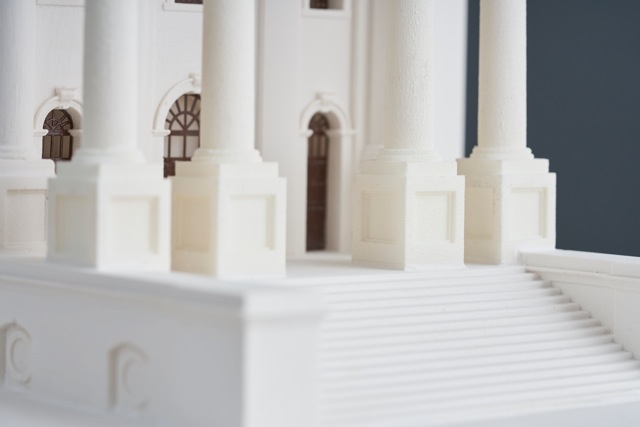 Nicholas Hawksmoor
Nicholas Hawksmoor (c. 1661–1736) has been described as the 'devil's architect' and 'a poster boy for occultists, studious goths and historical conspiracy theorists,' (Rose, 2006). Added to this, Rose (2006) portrays Hawksmoor as a 'mysterious freemason', with a liking for pagan symbols such as pyramids and obelisks, as well as a passion for religious architecture in all forms. Given this characterisation, it is unsurprising that Hawkmoor's buildings were remarkably original and altogether distinct at the time of their construction. Today, they stand as historic landmarks on a modern British landscape. Once an apprentice to Sir Christopher Wren and later a contemporary, Hawksmoor was an architect with a prodigious talent. He remains an important figure in the annals of British architecture.
Christ Church
Nicholas Hawksmoor's churches are regarded as national treasures, none more so than Christ Church, a spectacular English Baroque edifice located in London's Spitalfields. At 62 m in height, Christ Church is a large, imposing building, its noble presence dominating the surrounding area. With exceptional geometry and a grand simplicity, Christ Church is an architectural marvel that shouts 'London'.
Christ Church came into being on account of a 1711 Act of Parliament that called for the building of fifty new churches in and around London. The Act was a response to the city's expansion and its growing population in the years following the Great Fire. Eventually only twelve churches were built, including six designed by Hawksmoor. Christ Church was completed in 1729; at a cost of £40,000, it was wildly over budget (Hawksmoor's original budget was £7,000). By the mid-20th century, many of Hawksmoor's architectural works were in a state of disrepair. With Christ Church facing the threat of demolition, the Hawksmoor Committee was set up in the early 1960s to save this architectural wonder.
The Christ Church model by Chisel & Mouse is of the front facade, including the central spire. It is displayed beneath a glass dome.
St Mary Woolnoth
St Mary Woolnoth is another of the six London churches by Hawksmoor. A more compact structure, it has a somewhat unconventional design for a church. Completed in 1727, St Mary Woolnoth is nestled in the City of London. English Baroque in style, this Grade I listed building remains an imposing landmark in the city's financial district, despite the larger structures that encircle it. A highly original church, St Mary Woolnoth has a square body and a Portland stone facade, dominated by two squat, flat-topped turrets supported on Corinthian columns.
The St Mary Woolnoth model by Chisel & Mouse is of the front facade. It is displayed beneath a glass dome.