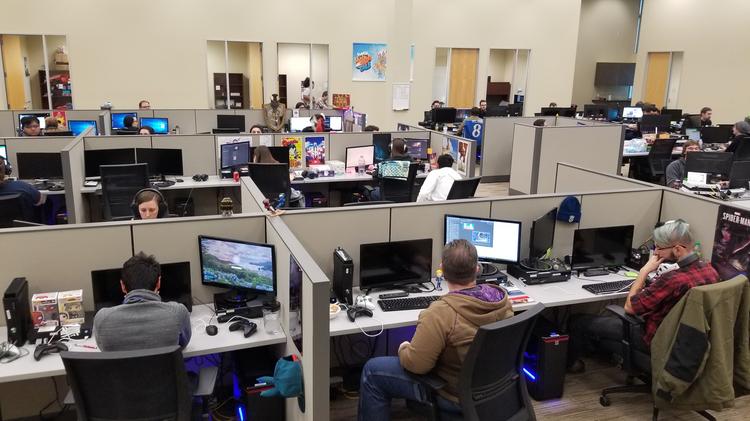 Refurbishing your office is a fantastic opportunity to revitalise your workspace, giving you all the benefits of having a new office without having to incur the costs of relocating. 
The idea of refurbishment puts off many business owners as it can create a lot of mess and disruption to their employee's workspaces, but with the proper planning in place, you can minimise the disturbance to your staff. To make the process smoother and less disruptive, it's vital to do your research on what you want to achieve and create a plan for every step of the way. 
Every office is different, and you need to tailor your planning to the space available to you. If your office is on the smaller side, it's crucial to take care in making the most out of your space. However, if you have a larger office, your plan will need to ensure that your staff aren't sat too far apart to guarantee efficient working once the refurbishment has been completed.
The results are worth the time and effort that goes into the overall process; in this guide, we will help your outline how to transform your office into the perfect workspace, improving first impressions and employee's productivity. 
What is Refurbishment & What Will It Cost?
Refurbishment is a project that involves the reimagining of a space that is already in use. Occasionally, this can also include renovations to the structure of a building or office where walls need to be removed to give more light or room. A refurb generally involves installing new flooring, changing dividing walls, updating technology or refreshing the company brand.
The cost of a refurbishment will depend on your square footage and business needs. Do you need minor changes to update kitchens, or are you looking to overhaul your entire office? If you're unsure of how much you want to do and the cost impacts to your company, Amos Beech have a breakdown of office refurbishment costs that can help you better understand what you want out of your refurbishment.
Set A Budget
Once you understand what you want to achieve with your refurb and have an estimation of costs, it's time to set the budget. Having a budget in place before you begin is crucial as you embark on your refurbishment; work out with your finance team what a reasonable budget for this project should be, and set aside a contingency budget for emergencies that may arise. 
Plan The Layout
When planning the layout for your office space, the efficiency, productivity and wellbeing of your employees should be at the forefront of your mind, alongside creating a beautiful space to wow visitors. The function of an office space will differ between companies and their business needs, and the functionality of the workspace for your employees is crucial to ensuring productivity and happiness. Ensure you have an adequate amount of meeting rooms, offices and break-out collaboration spaces to increase efficiency. Suppose your business is in a creative industry. In that case, break-out collaboration spaces and quirky chill-out areas are essential to not only increase efficiency but reflect the nature of your business.
In order to have a successful layout for your workspace, involve your employees in the process. Open up a platform to hear their needs and wants for the new workspace; this will not only give you the best chance for functionality, but your staff will feel valued by being included. If you have a larger workforce, have the heads of departments collate all of the ideas to streamline the process.
A Show-Stopping Reception
Create a show-stopping reception area to wow your employees and impress your visitors. We only get to make a first impression once and using your reception to make the right one from the moment clients or visitors step through your doors is crucial. 
Choose a front desk that is a welcoming and unique feature of your reception; place your brand's logo on the wall behind the front desk and backlight it to draw the eye up. Create stylish waiting areas that add to the design while offering comfort to your visitors, and add a touch of green with tall trees or a living wall to give your reception a talking point.
Integrate Technology
In today's digital world, a perfect office is equipped with the best tools and technology for improved performance. This is why many companies are making a move to integrate technology into their office spaces; gone are the days when adding a second computer screen is all a company can do to improve efficiency.
The variety of virtual communication tools has transformed the way we work and interact with customers; integrating software and hardware that can keep up with the ever-updating tools available will improve your team's ability to collaborate for years to come. Clients appreciate a quick turnaround on work and receiving rapid responses to queries. Integrating technology throughout your processes will improve your employees capacity to deliver this for your customers; this will also allow your team the time to take on more projects which will increase revenue in the long term. 
Overall, integrating technology makes it easy for both your employees and clients to communicate and have access to on-demand information, which leads to an increase in performance and a reduction in stress. You will notice your employees are more satisfied with their work when you integrate technology.
Invest In High-Quality Furniture
Old furniture can leave your office looking dull and unattractive. This not only hurts the impression you make when clients visit, but it can damage the morale of your workforce, which lowers productivity. Investing in high-quality furniture will impress all of your visitors, but it will also make your staff happy. Office chairs that don't support the spine can cause pain to the lower back; high-quality furniture will ensure that your staff are comfortable while they work and avoid any possible pain from incorrect posture. Adjustable desks are becoming more popular in many offices, as they offer the opportunity for employees to change positions throughout the day, which can help with blood circulation.