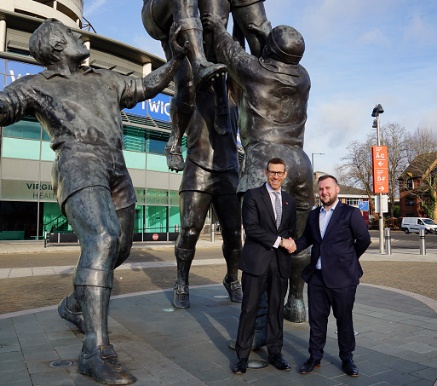 The Rugby Players Association (RPA) have today announced a new partnership with independent land agency Walter Cooper to become an Official Business Club Member on a one-year deal.
The company based in Hertfordshire, who act on both the disposal and acquisition of residential land and mixed-use development sites, not only have a huge passion for the game of rugby but also for player welfare.
Walter Cooper will work with all RPA members both current and retired, to educate them on the process of land and development transactions. In addition, they will also offer work experience opportunities in the development industry to those members who are keen to learn more about the industry.
Walter Cooper Managing Director, Simon Cox, said: "We're incredibly excited to be partnering with the RPA with a view to educating and assisting their membership in a better understanding of the development and land industry. We're proud to be associated with RPA and their work in securing the futures of all players and members during and after their playing careers. This is something we're passionate about and see lots of synergy in what we do and the wider rugby community. We're keen to hear from all members, so if there is anything we can help with specifically do get in touch. We can't wait to get started."
Gaia Bursell, RPA Head of Commercial and Team England commented: "Walter Cooper are the first land agency business to partner with the RPA and we were delighted when Simon approached us to support our members via this partnership. We are confident this relationship will open up a new industry to the players, allowing them bespoke access to explore opportunities within land and development."