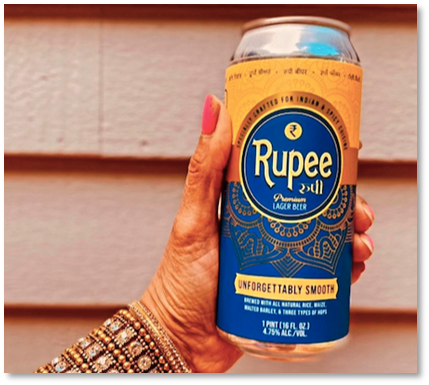 Known for its diverse range of intricate ingredients, tongue-tickling flavours and health benefits, Indian food has become one of the world's most popular cuisines.
From London to Dubai, Hong Kong to New York, you can find an Indian restaurant just about anywhere these days.
With this tremendous rise in popularity, growing demand for pairing your favourite Indian curry with international and craft beers has emerged.
The pairing of a good, cold beer with a curry can amplify the way we think of Indian cuisine today. With a growing appetite for domestic beer production in India, the country boasts a wide variety of national beer companies that also export around the world.
Here, are five of the best beers to pair when dining at an Indian restaurant:
Rupee – Rupee was specially designed and crafted by a world-renowned master beer brewer and an award-winning Indian chef and is at the forefront of creating complex international Indian beverages designed as the go-to pairing for Indian, spicy and robust world cuisine. Slow brewed to a traditional Indian recipe using all-natural rice, maize, malted barley and three types of hops, Rupee is unforgettably smooth with a refreshing finish. Having lower amounts of carbonation compared to industry-standard beers, Rupee drinkers feel less fizzy and able to enjoy more of their favourite curry.
Kingfisher – One of the most popular and exported Indian beers globally, Kingfisher has been a favourite at Indian curry houses since the 1970s. The fresh, clean taste of this brew goes great with spicy tikka masala and butter chicken. Being India's most popular regional beer of choice, Kingfisher can be found all over the country.
Cobra – This brew was founded in 1989 by Lord Karan Bilimoria in the UK when he noticed that the local lager was too gassy to enjoy with his favourite curry. It was here Cobra was born creating a smoother, less gassy beer to go along with exotic Indian flavours. Its gentle fizz and slight sweetness go perfectly with coconut-flavoured kormas which makes it a local favourite at curry houses across the United Kingdom.
Jaipur IPA – This India pale ale is part of the Thornbridge Brewery founded in Derbyshire in the United Kingdom. The golden pale ale is lightly carbonated with an aroma of lemon and ideal with a curry that is bursting with flavour. Great with a jalfrezi or tikka masala, the powerful malty taste with hints of citrus complements any spicy or creamy curry.
Goa Premium Beer – A gluten-free brew from India's vibrant beach state of Goa, this beer has a lovely crisp and light taste with a velvety texture of malt within the beer. It is best enjoyed with spicy curries such as a vindaloo or regional Goan fish curry. The taste of Goa Premium Beer works well with Indian food having a clear aftertaste that helps you enjoy the rich flavour of Indian cooking.