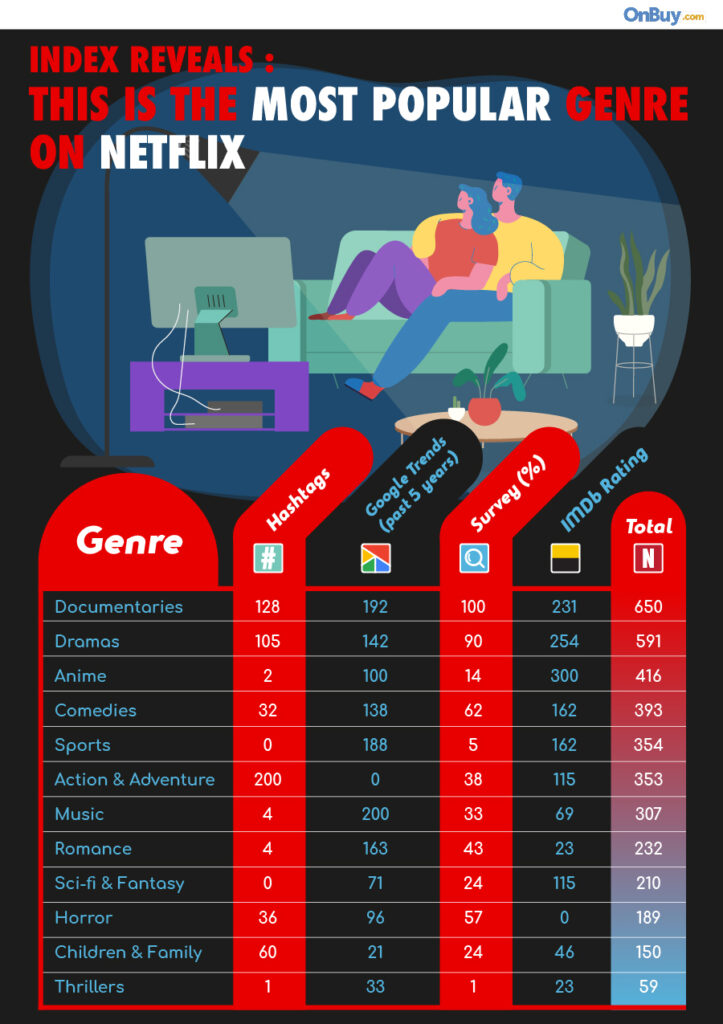 It's that time of year when we get cosy on the couch, ready to binge our favourite shows. With more time on our hands than ever, it's no surprise that Netflix viewership has doubled during 2020 with an extra 55.89 million subscribers.
With all this in mind, OnBuy.com wanted to find out once and for all what is the most popular genre on Netflix!
Through collecting data from across the globe via IMDb ratings, Google Trend averages, Instagram hashtags and a survey of 3,587 participants, OnBuy was able to establish a 'popularity score' for each of the 12 headline genres on Netflix.
And the winner is ….
Documentaries claiming a staggering overall score of 650 – revealing a global thirst for knowledge. With 19,986 Instagram hashtags contributing 128 points for popularity, and a Google Trends search average of 56 equating to 192 points, it seems the world's gone wild for Blue Planet and Tiger King.
OnBuy can also confirm that we all love a bit of Drama, with this genre ranking second. Though rivalling Documentaries with an IMDb average rating of 7.4 scoring 254 points, and a Google Trends average of 44 scoring 142 points, it's a close call with Drama reaching a grand total of 591 points.
Despite holding the highest IMDb average rating of 7.6 equating to 300 points , Anime stands in third place with an overall popularity score of 416, dragged down by ranking low in OnBuy's survey and having an overall Instagram hashtag score of just 2 points – proving it to be a guilty pleasure with many binge watching in secret.
Comedies (393) and Sports (354) are fourth and fifth. Both genres claim identical IMBb ratings and similar Google Trend averages, however Comedies outshines with 4,994 Instagram hashtags compared to Sports acquiring only 33 causing a 32-point difference for this category.
FINALLY, OnBuy can reveal that Netflix Thrillers aren't as thrilling as we'd expect, with the genre scoring a measly 59 popularity points – standing as the world's LEAST favourite Netflix genre. Falling 91 points behind Children and Family in 11th place, it is a clear-cut loss!