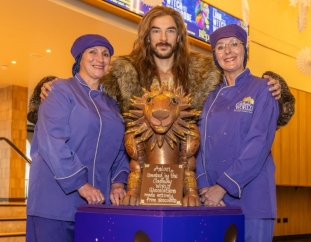 Midlands based attraction Cadbury World, has unveiled a magnificent chocolate recreation of 'Aslan' from 'The Lion, The Witch and The Wardrobe' to celebrate the show coming to the Rep theatre in Birmingham this winter.
Standing at a ferocious 66cm tall, the majestic chocolate beast took the talented Cadbury World chocolatiers Donna Oluban and Dawn Jenks four days to make.
In order to create the chocolate version of the show's puppet, Cadbury World's expert chocolatiers repurposed moulds used to make their handmade chocolate gifts for the different body parts. They carefully crafted the dazzling finishing touches by hand, including 101 hand-painted spikes for the mane, which were individually adhered to the body using melted Cadbury Dairy Milk chocolate. The final flourish was added to create the lion's shimmering gold mane using edible gold and yellow lustre mixed with cocoa butter to capture Aslan's magical qualities.
The chocolate Aslan puppet will be the 'mane' event displayed at The Birmingham Rep from 14th November, so theatre-goers can see the roarsome creature as they attend to watch 'The Lion, The Witch and The Wardrobe'.
Gerrard Baldwin, General Manager at Cadbury World, said: "Yet again, we are incredibly impressed by the showstopping figure that our talented Cadbury World chocolatiers have brought to life.
"The intricate sculpture has been modelled after the Aslan puppet used in 'The Lion, The Witch and The Wardrobe', and we are thrilled that it will be on display for the next few months at the Rep for everyone to enjoy when they watch the show"
"The design is yet another example of the magic of chocolate and we can't wait to see guests of all ages enchanted by our latest show-stopping creation!"
Guests can enjoy lots of chocolatey fun at Cadbury World in the build-up to Christmas, including the family-friendly Santa stage show which will run on selected dates until 23rd December.