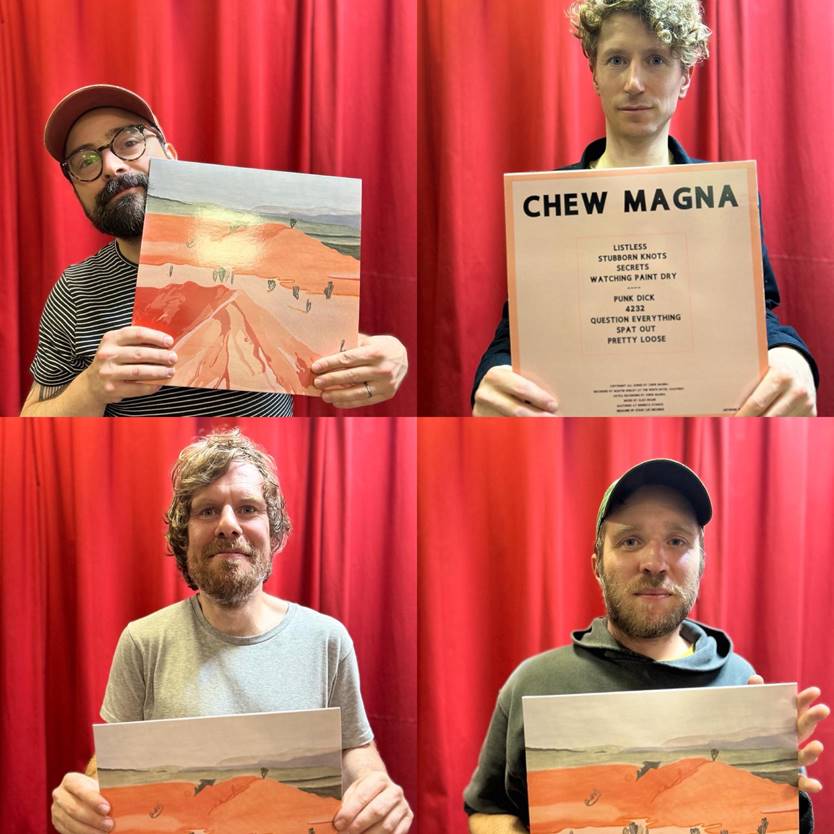 Manchester's most uplifting cacophonous craftsmen Chew Magna, are ready to unleash their blistering and diverse eponymous debut album. More than just an onslaught of decibel-destroying fuzz, the 4-piece took inspiration from their vast record collections laying down an ambitious record that veers and lurches into Indie Rock, Krautrock, Post-Hardcore, Punk, Noise Rock and Shoegaze.
"We wanted to create a really varied record that gives a nod to loads of our favourite bands from the 70's onwards and isn't necessarily beholden to traditional, vocal led song structures" explains singer Laurie.
After one listen through it's obvious the band have succeeded in their quest for variation. Opener and lead single 'Listless' is full throttle krautrock punk. 'Stubborn Knots' sees the 4-piece settle into a Fugazi inspired groove. '4232' is a joyful song about being set free as it nods to Sonic Youth. 'Watching Paint Dry' laments the Holocene extinction to a motorik beat. 'Pretty Loose' explores the hopelessness of revenge, provoked by the film 'Three Billboards Outside Ebbing, Missouri'. 'Spat Out' tips its hat to Broken Social Scene, 'Question Everything' does the same to the Pumpkins. Elsewhere songs like 'Punk Dick' see the 4-piece jamming 3 minutes of instrumental psych rock followed by 1 minute of ferocious hardcore punk, in contrast to 'Secrets', a poppy indie rock anthem buried under unyielding guitar squall.
Assembled after stepping back from their former musical outfits, guitarist, Simon (Young British Artists), guitarist and vocalist, Laurie (Songs For Walter), drummer, Ben (Young British Artists) and bassist, Joel (Jane Weaver, Frances Lung) have come together at no better time. Absorbing influences from the world around them as they navigate new sonic terrains (even Chew Magna's own village-inspired band name aligns with the colourful vista depicted in the album artwork by talented landscape artist Josh Sowa), theirs is a melodic commotion with the thunder to lighten up even the greyest of skies.
Having previously played alongside acts such as Cloud Nothings, Empath and Mothers, Chew Magna are currently booking a UK tour to coincide with the release of their debut record. Stay tuned for more Magna news.
Chew Magna – Chew Magna is released through Stray Cat Records on limited edition vinyl now and digitally across all streaming platforms from January 19th 2024.