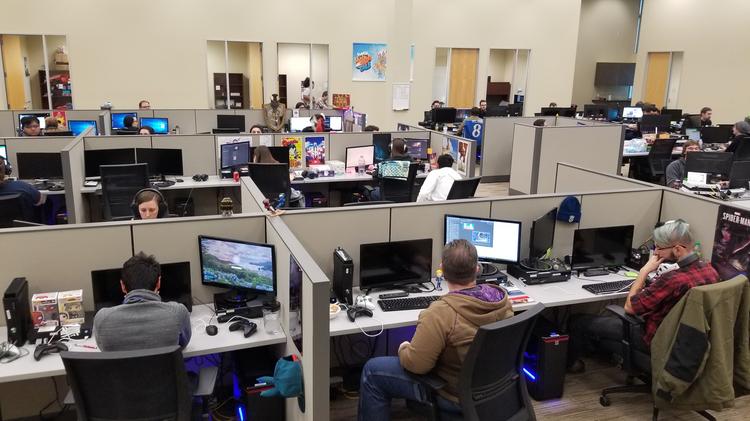 According to a recent study by the Chartered Institute of Personnel and Development (CIPD), an estimated four million people in the UK have left their jobs in the past year due to a lack of flexibility[1]. When looking for new roles, 71% of employees identify a flexible working pattern as a key factor in their decision making; some other factors highlighted are the opportunity to develop one's own skills and availability of bespoke progression plans. These have become synonymous with the tech industry, in which the workforce has grown significantly, and careers in the industry have become an appealing option in today's job market.
Stuart Dewing was an experienced sales professional who jumped into the tech industry two years ago after a 10-year stint in his previous sector. Looking for greater career prospects, Stuart spent his evenings and weekends learning the skills he would need to make the career move.
Stuart is now a .Net Engineer at Talk Think Do, having started in June 2023, and shared his experience on moving into the tech industry, without a formal tech background: "Changing careers was a daunting decision, but I was keen to explore the opportunities in tech because there were aspects of the industry that greatly appealed to me. My new role requires a different sort of creativity to get a project completed to the highest level and is rewarding in that the effort you put in is directly reflected by the outcome of your projects. The potential for constant development and growth was a big factor in my decision.
"I can only speak for myself, but I find that working in tech gives me a great sense of pride and the skills I learn all relate to each other and help me grow. It feels great to work in a forward-thinking industry with endless opportunities. Moving into tech has allowed me to work in a passion of mine and the feeling I get is second to none."
Commenting on the vast development opportunities in tech, Louise Clayton, Managing Director at Talk Think Do, commented: "The tech industry is constantly evolving. We recently became one of the UK's first firms to begin recruiting for a Prompt Engineer due to an anticipated growth in AI services. This ever-changing landscape allows for a wide range of career opportunities to be offered."
When asked what advice he would give to others making a career change into tech, Stuart said: "To kick off your initial learning, I would suggest starting by choosing one coding language and getting confident with that to learn the basics. I'd then start building a website to be used as your portfolio, documenting each and every step along the way to show your learnings and retrospective thoughts. This becomes a body of work to show employers exactly what you've gained experience with."
There are plenty of coding course available for all levels, from Codecademy to Fullstack academy, many of which allow members to progress at their own pace. Learning via these platforms is an effective method to start a career change, providing opportunities to pick up skills that open doors for future job roles. Making the jump into tech may be daunting, but the rewards are there if you choose to make the leap.